Travel (Sunday)

International News
Denmark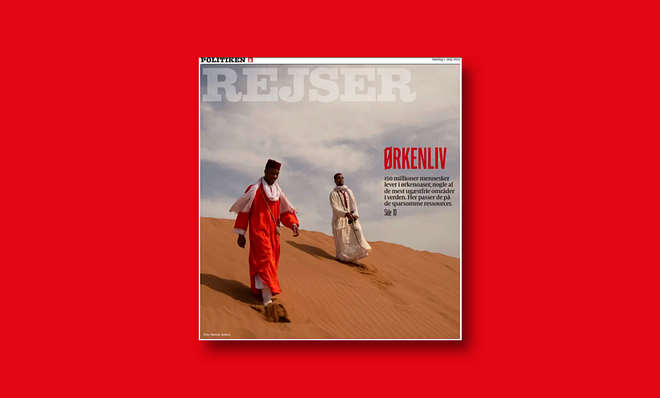 Full screen
Description
The section with the great reports and inspiration for travel and weekend guides to cities around the world - a section carried by fascination, utility and topicality. TRAVEL should inspire and guide our readers and at the same time be a wealth of good advice and tips. TRAVEL has a special focus on city and cultural travel, of which Politiken's readers are major consumers.

Fixed formats:
Readers' own holiday tips
Hotel check
An overall travel classifieds market with inspiration
Gadgets and equipment that make the journey easier
Advertising, text page:
Front 6 x 75 mm (SOLD OUT)
Full page on page 3 and back.
All other standard formats can be placed inside the section
Deadline:
Wednesday at 13 for orders and Thursday at 12 for finished material
Special supplements and themes:
Cultural trips, Sun & Summer, City break, USA, Summer in Denmark, Active Holidays, Nordic countries, Oceania, Cruise, Africa, Dream trips, Asia, The trip goes to, Ski and Snow

Ad production:
Politiken is happy to help with the production of advertising material or proposals for new / improvement of advertising layout. Price DKK 1 per mm (min. DKK 150 and max. DKK 1,000) including 1 correction course. Additional corrective procedures cost DKK 100 per walk.
If you have questions about indentation, prices or anything else, you can contact us on 3347 2515.
LOCATION

INFO

PRICE
Text page tabloid format
Price per mm
Sunday:
24 kr
Holiday market, box, abroad
Price per mm
Monday-Saturday:
19 kr

Sunday:
26 kr
Holiday market, section, Denmark
Price per mm
Monday-

Saturday

:
19 kr

Sunday:
26 kr
Prices are incl. color surcharge and excl. VAT
Sold by